Advance ticket sale for the IBU Cup Biathlon 2020 at the Hohenzollern Ski Stadium.
The IBU Biathlon Cup ARBER takes place from 4th to 9th February 2020.
Have a look at the schedule when which competition and the award ceremony  take  place.
With immediate effect the following tickets for the IBU CUP BIATHLON ARBER are available: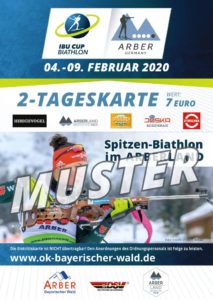 Day ticket for one competition – 4,00 € per person
2 days combined ticket – 7,00 € per person
Admission tickets can be purchased:
online www.arberland-shop.de,
by calling our free hotline Tel. 0800 272375263
or directly at the entrance on the day the competition takes place.
The entrance to the official training on Wednesday, 04.02.2020 and Friday, 09.02.2020 is free.